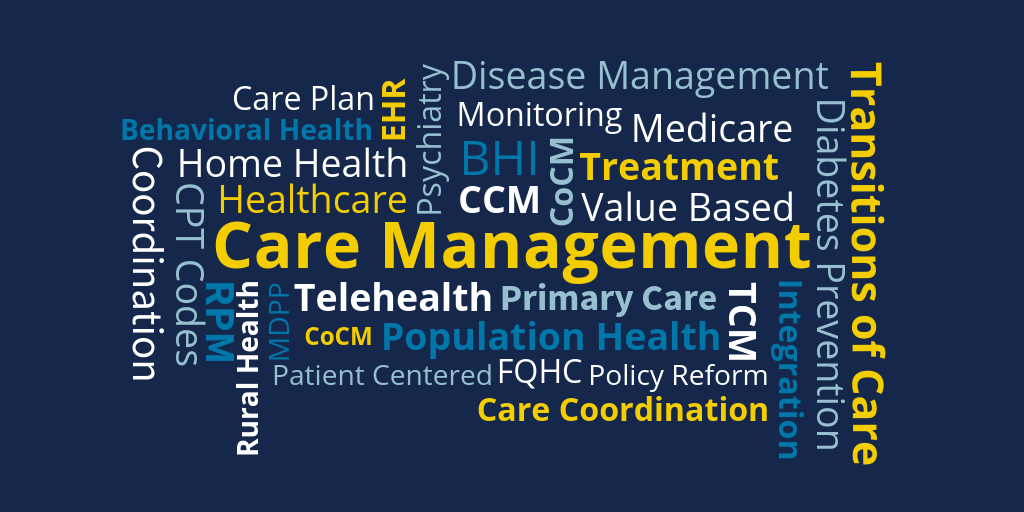 Overview; CCM, PCM and RTM Program Updates:
If you are planning to offer, or currently offer chronic care management or remote monitoring services to your patients, CMS is providing more financial incentive with new billing codes and increased reimbursement rates.
CMS significantly increased the reimbursement rate for Chronic Care Management and created a new add-on code for provider time spent managing CCM patients.
Principal Care Management also received a significant reimbursement increase for clinical staff time, and new add-on codes were created for both providers and clinical staff.
Remote Therapeutic Monitoring (RTM) was introduced as a new program for monitoring respiratory and musculoskeletal system status, therapy response and adherence. It is similar to Remote Patient Monitoring, but for a narrower scope of conditions.
New Chronic Care Management (CCM) Billing Code:
A new code was created for physicians and qualified providers, reimbursing for an additional 30 minutes of provider-delivered CCM services. This code is an add on to the original 99491 code and has the following reimbursement:

New Principal Care Management (PCM) Billing Codes:
Reimbursement increases were made for clinical staff PCM services, and two new 30-minute add-on codes were created for time spent by providers and clinical staff.
The full list of PCM codes and 2022 reimbursement rates are as follows: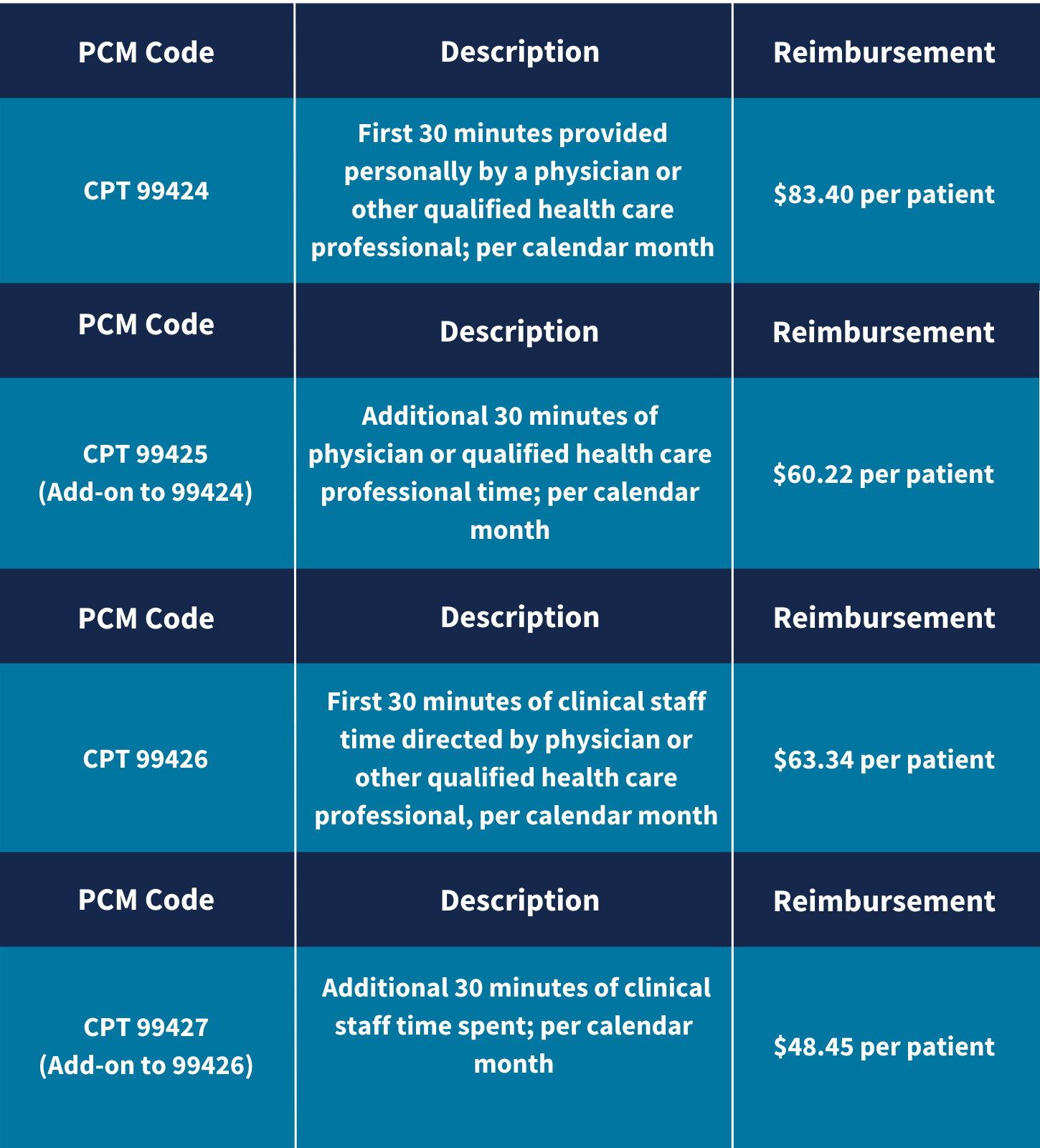 New Remote Therapeutic Management (RTM) Program:
RTM monitors a defined set of health conditions: musculoskeletal and respiratory system status, therapy and adherence (i.e. medication). Similar to Remote Patient Monitoring, data is collected from patients, but with RTM, the data can be patient-generated and transmitted.
RTM services can be provided and billed directly by physical therapists, occupational therapists, dietitians, clinical psychologists, and other qualified professionals, since the codes are not in the E/M code sets.
The following codes are available for billing RTM services: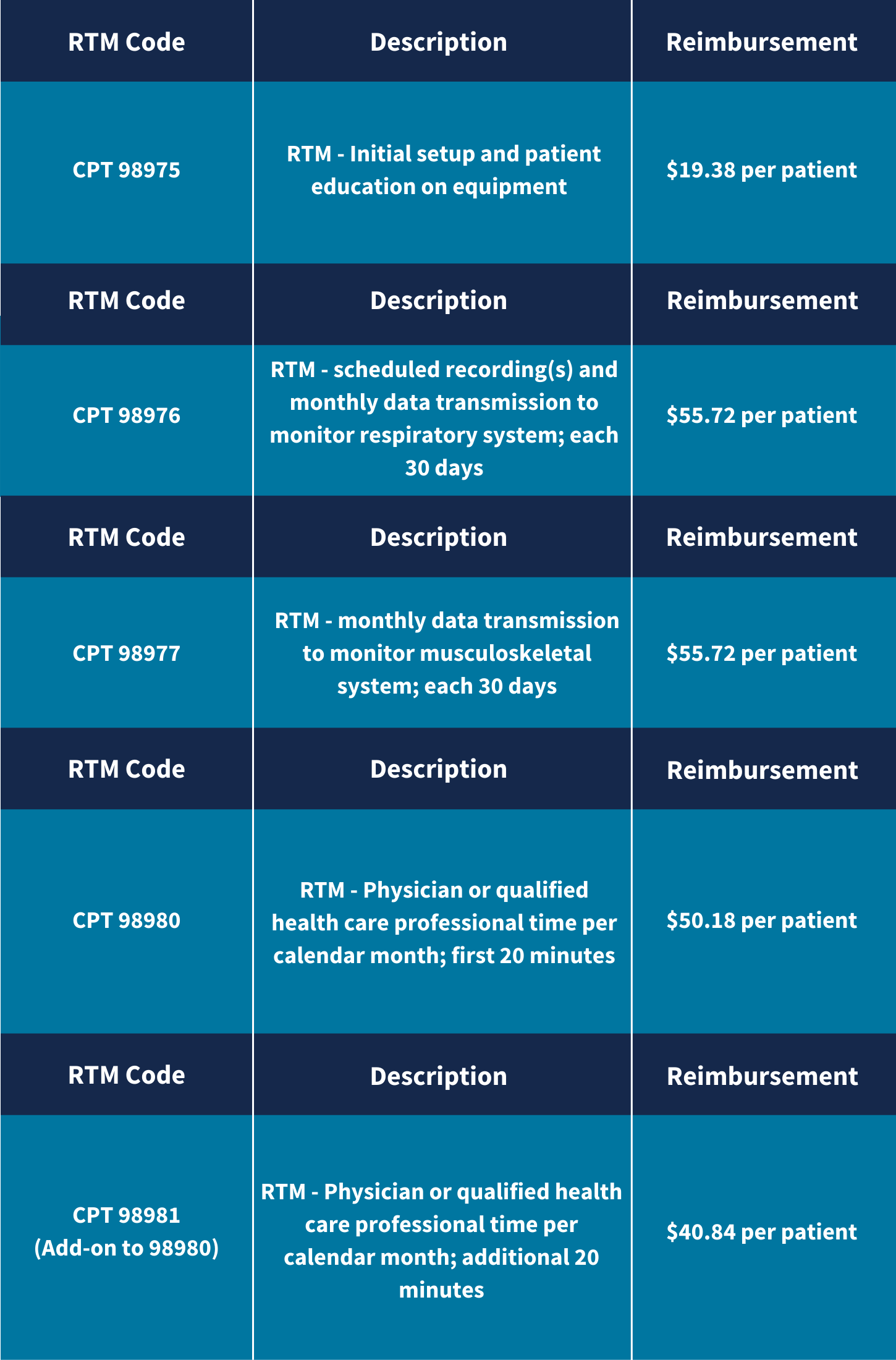 More Updates To The 2022 Medicare Physician Fee Schedule:
CMS continues to address health inequities to better serve Medicare beneficiaries in 2022. Other key updates include:
Certain services added to the Medicare telehealth services list

during the COVID-19 PHE

will remain through December 31, 2023
Previous restrictions limiting Mental Telehealth services to only patients residing in rural areas have been removed
Rural Health Clinics and Federally Qualified Health Centers receive higher reimbursement rates for care management services including CCM, BHI and RPM
Summary:
CMS offers more incentive to providers in 2022 to partner and help achieve improved patient outcomes. The 2022 updates reflect a broader strategy to create a health care system that results in better accessibility, quality, affordability, empowerment, and innovation.