Behavioral Health Care Integration Software
Overview:
AviTracks-BH offers complete functionality for managing patients with mental, behavioral, or psychiatric conditions.
With AviTracks-BH you can automate your entire behavioral health care workflow - from enrolling the patient, documenting medications, tracking phone calls and other care coordination activities, to generating reports needed for billing purposes. For providers participating in Medicare, this includes supporting documentation for general BHI code 99484 and CoCM CPT codes 99492, 99493, and 99494. Beneficiaries that qualify to receive general BHI or CoCM services may have any mental, behavioral health, or psychiatric condition, including substance abuse disorders.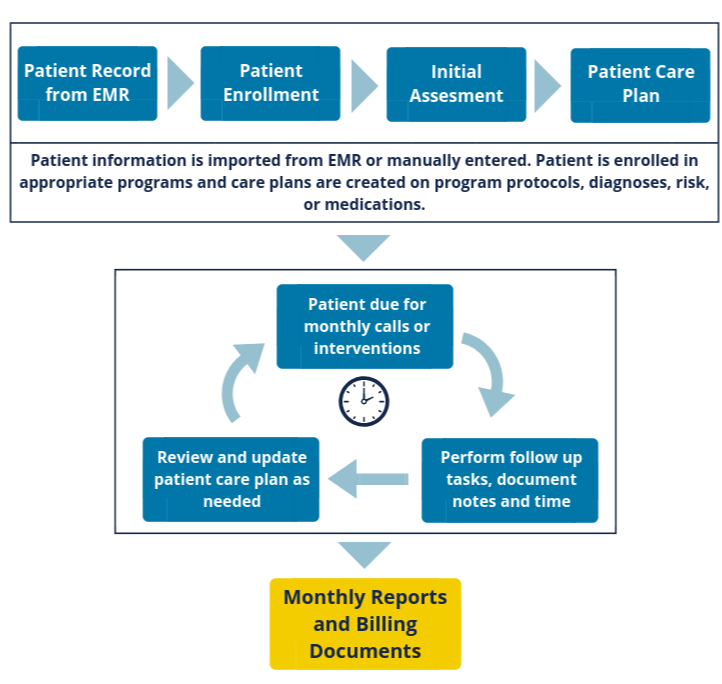 Features:
Enables team-based care and care coordination across providers
Set up multiple programs and protocols (General BHI, CoCM, CCM, TCM, etc.)
Create electronic care plans, assign teams and separate the tasks among physicians, nurses and care managers
Create custom questionnaires for monthly patient follow up
Record and log time for every interaction with the patient
Customizable workflow process
Risk profiler - assign a risk level to each patient and adjust tracking based on risk
Flag patients by condition, risk or program for easy identification and monitoring
Implement across multiple care provider teams, letting each group focus on their work and at the same time share critical information
Reports and statistics by user - administrators can see staff workload as well as identify highly efficient nurses, coaches and care coordinators
Create documentation for billing purposes including general BHI CPT code 99484 and CoCM CPT codes 99492, 99493, and 99494
System Architecture:
AviTracks-BH is a web based application
AviTracks-BH is offered as a Cloud SaaS solution (Software as a Service)
AviTracks-BH runs under encrypted technology (https) providing an extra layer of security
HIPAA Compliance and Security:
Microsoft Azure cloud hosted environment
Fully redundant data centers in the United States
HIPAA Compliant
Full Chain of Business Associate Agreements
Comprehensive suite of security technologies
Data fully encrypted during transit and at rest
Antivirus protection