Specialty Disease Management Software
Overview:
AviTracks-DM makes it easy to improve the quality of care for high-risk patients, enhance information flow within and outside your clinic, and manage two to three times the number of patients without increasing staff levels.
With automated workflow and real time EMR and lab interfaces, AviTracks-DM automatically updates the status of each one of your patients – including pending labs, labs waiting to be reviewed, critical alerts and reminders for follow up. Built-in and customizable reports create the documentation you need to comply with quality initiatives and pay-for-performance measures.
AviTracks-DM integrates with and enhances your current EMR system:
EMRs are typically used to record encounter notes and generate billing data, but are often inadequate when it comes to clinical disease management plans – especially for patients with multiple chronic conditions and complex therapies. AviTracks-DM fills this gap by integrating with your current EMR and laboratory systems so you can create custom protocols, treatment plans and alerts tailored to each individual patient – while leveraging and sharing patient data already housed within your EMR.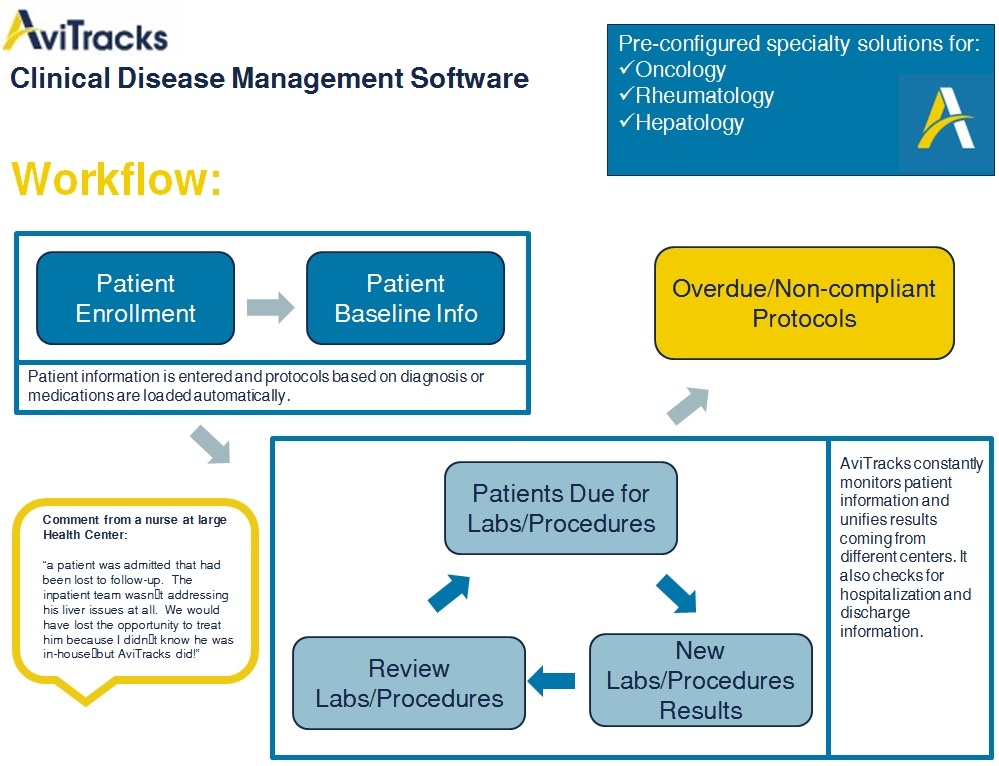 Features:
With AviTracks-DM you can:
Customize treatment plans by disease, medication, risk profile, or specific disease phase
Follow your patients throughout the care continuum
Manage large numbers of patients with complex conditions, all according to your specifications
Monitor lab results automatically and flag patients with critical values
Document each patient interaction to ensure compliance and minimize risk
Integrate to your electronic medical record and your hospital's laboratory and admission registries
Communicate with patients using standardized and automated education and correspondence
Collaborate with secure electronic messaging to other caregivers across medical specialties
Access all of your patient's information 24/7 through a secure Internet connection
Improve your practice's productivity by 2-3 times without adding staff
System Architecture:
AviTracks-DM is a web based application
AviTracks-DM can be licensed for in-premise use or purchased as a cloud SaaS solution (Software as a Service)
AviTracks-DM runs under encrypted technology (https) providing an extra layer of security
HIPAA Compliance and Security:
Microsoft Azure cloud hosted environment
Fully redundant data centers in the United States
HIPAA Compliant
Full Chain of Business Associate Agreements
Comprehensive suite of security technologies
Data fully encrypted during transit and at rest
Antivirus protection