Specialty Disease Management Software
Overview:
AviTracks-DM is a web-based clinical decision support system for managing patients with chronic diseases. Our disease management software was designed by healthcare professionals like you to enhance rather than change the way you care for patients. AviTracks-DM is used by hospitals, health systems and large specialty clinics that manage high acuity patients where up to the minute information is vital to patient outcomes.
With AviTracks-DM you can:
Create customized treatment plans – by disease, medication or risk profile
Automatically monitor patient status - pending labs, results, and medication changes
Receive real-time notifications of changes to critical values
Manage non-compliant patients through customizable workflow
Share information across multiple specialties as well as primary care
Automatically analyze and report on outcomes and staff productivity
Integrate with multiple EMR and lab systems
How it works: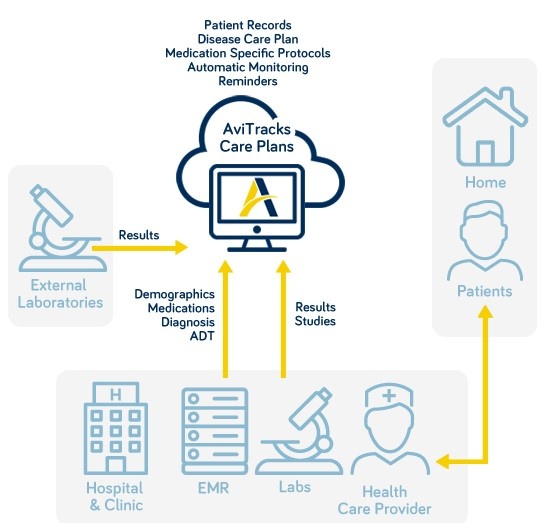 Specialties:
Unlike other applications that focus on a single disease, AviTracks-DM is a flexible platform that can be quickly configured for multiple diseases. This makes it ideal for institutions where multiple specialties co-exist. You can share your patient information across specialties as well as primary care. This allows for a complete 360 degree view of the patient, where every party involved in the patient's care has access to the most current information.
AviTracks-DM offers pre-configured solutions for the following specialties:
Learn more about AviTracks-DM features and benefits