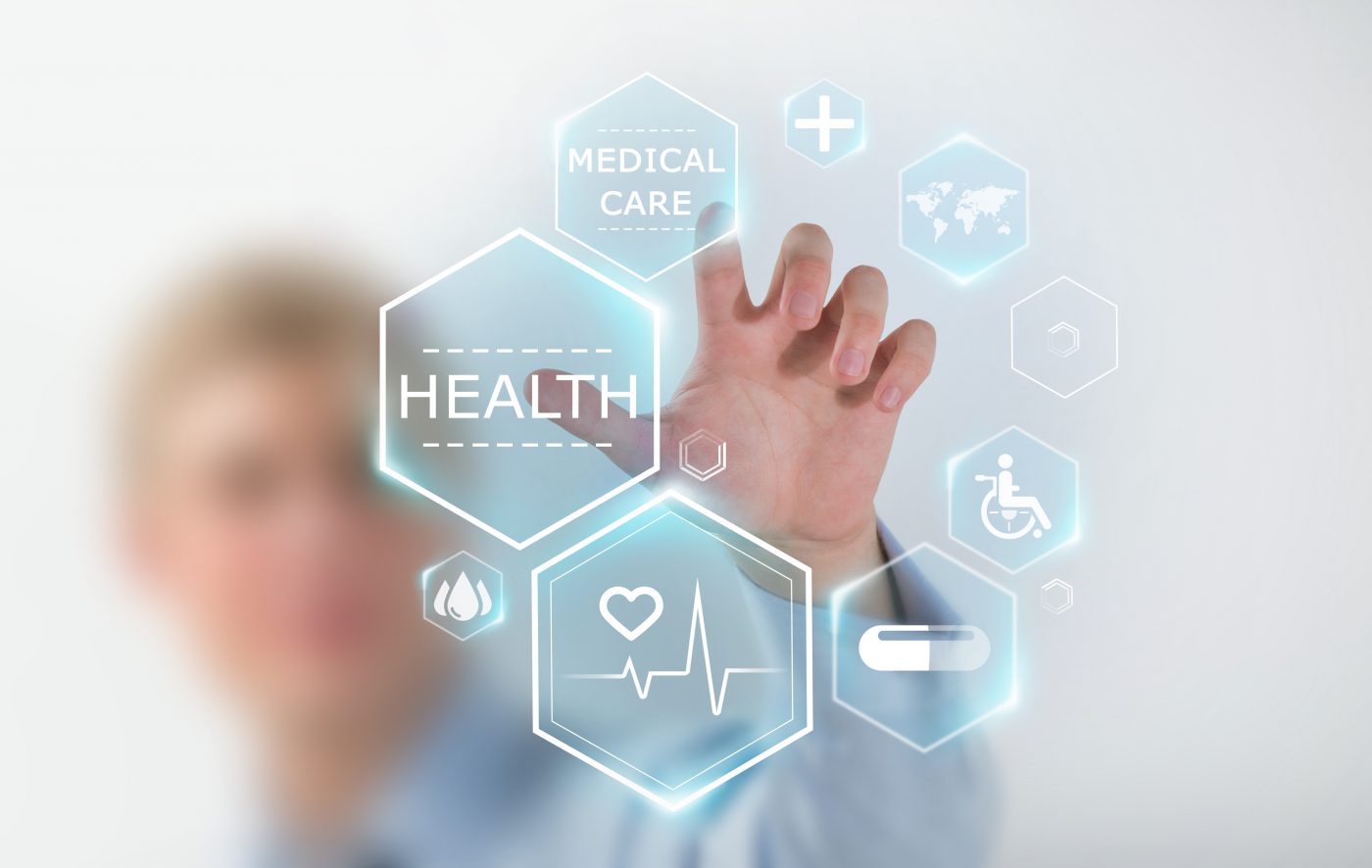 CMS Care Management Programs - History and Overview:
In 2013, CMS introduced Transition of Care Management (TCM), reimbursing providers for furnishing care to patients transitioning from the hospital to their home. Two years later, the Chronic Care Management (CCM) program was launched to promote better outcomes and reduce the cost of care for patients living with two or more chronic conditions. To expand on the established Annual Wellness Visit (AWV) benefit, CMS introduced Advanced Care Planning (ACP) in 2016 with the intent of educating beneficiaries on their options for long term care decisions. To aid the millions of Americans afflicted with a mental health disorder, Medicare added Behavioral Health Integration (BHI) to support patients with a mental, behavioral, or psychiatric conditions.
Each year, updates to the Medicare care management programs attempt to create more financial reimbursement opportunities for providers to continue to improve the health outcomes of their patients and transition to value based care.
TCM Program Overview:
Transitional Care Management is focused on reducing unnecessary hospital readmissions of patients in care transitions from hospital to home through better coordination of care and follow up during the 30 days post-discharge.
Key service components of TCM include:
1) An Interactive Contact within 2 business days following the beneficiary's discharge
via telephone, email, or face-to-face
2) Certain Non-Face-to-Face Services, which may include review of discharge information, review/follow up on diagnostic tests, medication management, and coordination of care with other providers and community resources
3) Face-to-Face Visit within 7 calendar days of discharge (high complexity) or 14 days of discharge (at least moderate complexity)
Billing Codes

CCM Program Overview:
Chronic Care Management (CCM) is recognized by CMS as a critical component of primary care that contributes to better health and care for individuals. The goal of the program is to reduce unnecessary ER visits and hospitalizations by helping patients better manage their conditions through increased communication, education and coordination of care between office visits.
To be eligible for CCM services, patients must have two or more chronic conditions expected to last at least 12 months and that place the patient at significant risk of death, acute exacerbation/decompensation, or functional decline.
Key service components of CCM include:
1) Initiating Visit - for new patients or patients not seen in the previous 12 months
2) Patient Consent for services (can be verbal, but must be documented)
3) Structured recording of certain patient data in a certified EHR
4) 24/7 Access & Continuity of Care – to address urgent needs
5) Comprehensive Care Management and continuity of care with a designated care team member
6) Comprehensive Care Plan - with a focus on the chronic conditions being managed
7) Timely electronic sharing of care plan within and outside the billing practice
8) Management of care transitions between and among health care providers and settings
9) Care Coordination with other providers and home and community-based service providers
10) Enhanced Communication Opportunities between patient and practitioner regarding the patient's care
Billing codes: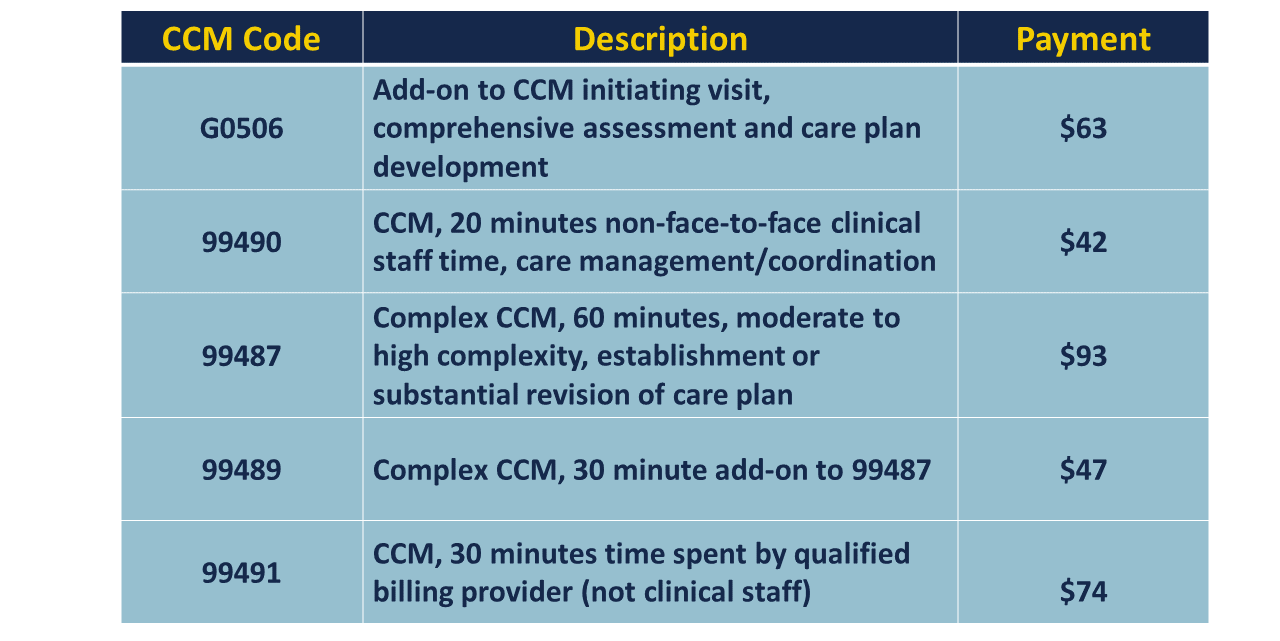 BHI Program Overview:
The BHI program consists of two levels of behavioral health services that are categorized into either general BHI or psychiatric collaborative care model (CoCM). CoCM services are delivered by an integrated care team comprised of a billing practitioner, behavioral health care manager, and a psychiatric consultant. The psychiatric consultant and primary care team are required to consult regularly to review the beneficiary's care plan and condition.
General BHI reimburses for monthly "core" services including care plan development and monthly assessment and monitoring of beneficiaries. Unlike the CoCM, a psychiatric consultant and a specialized behavioral care manager are not required in order to furnish the monthly services. The service elements may be delivered completely by the billing practitioner and clinical staff.

Key service components of BHI include:
1) Initial Assessment - using specific validated rating scales
2) Formation of a Behavioral Health Care Plan - or modifications to an existing care plan for those not seeing progress in their condition
3) Systematic assessment and monitoring, using applicable validated rating scales
4) Care planning by the primary care team directly with the beneficiary, with care plan revisions based on patient progress
5) Facilitation and coordination of behavioral health treatment
6) Continuous relationship with a designated member of the care team
Billing codes: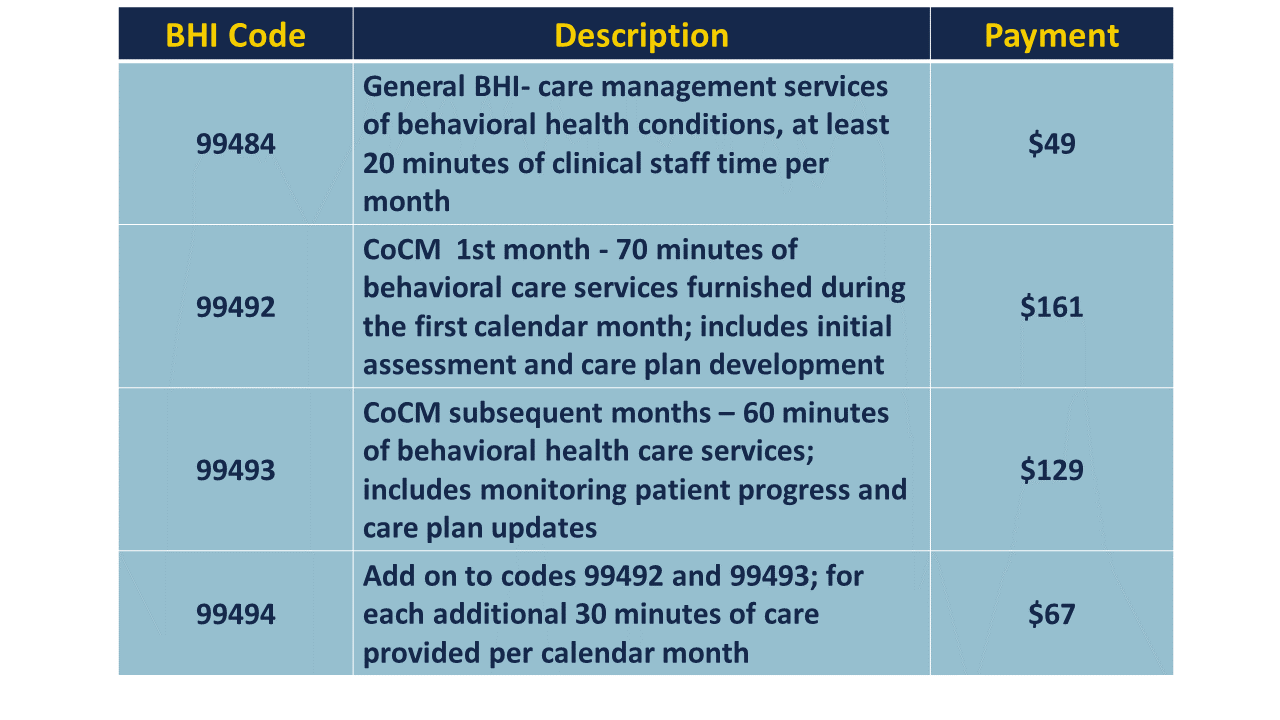 Annual Wellness Visit and Advanced Care Planning Overview

For quite some time, Medicare has covered Annual Wellness Visits at 100%, yet it is estimated that only 12% of beneficiaries receive this service. The AWV includes a health risk assessment and creation or update of a personalized prevention plan.
Advanced Care Planning (ACP) may also be offered as an add on to the annual wellness visit. ACP is a face-to-face conversation between a physician (or other qualified health care professional) and a beneficiary to discuss the beneficiary's wishes and preferences for medical treatment if he or she were unable to speak or make decisions in the future. This includes the explanation and discussion of advance directives and standard forms (with completion of such forms, when performed).
Key service components of AWV include:
1) Initial Assessment - for eligible patients during the second year of Medicare Part B
2) Face-to-Face Visit - conducted every 12 months by a physician, qualified non-physician practitioner, or medical professional
3) Health Risk Assessment - includes an evaluation of mental health conditions, risk factors, and treatment options
4) Personalized Prevention Plan Services - provides recommended screenings and referrals to health education, preventative counseling services, or programs
Key service components of ACP include:
1) Face-to-Face Visit - between the physician/qualified healthcare professional and the beneficiary, family members, or surrogate to discuss preferences for medical treatment
2) Explanation and Discussion - of care decisions and advanced directives, which may involve the completion of standard forms
3) Add on element to the Annual Wellness Visit
Billing codes: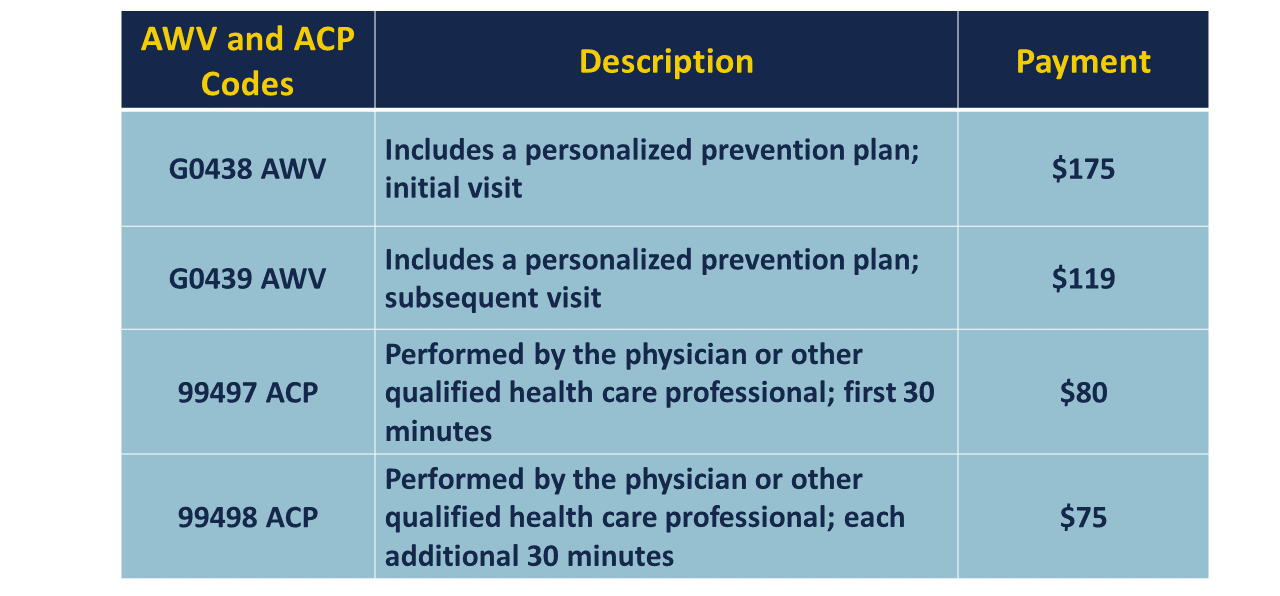 Summary:
The CMS continues to modify its care management programs, in an effort to improve patient outcomes and reward physicians for providing better coordination of care during and between office visits. These programs continue to encourage providers to benefit from fee for service care while transitioning to value based care.